To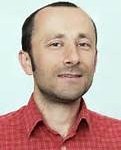 mas Etrych is director of the "Biomedicinal polymers" department of the Institute of Macromolecular Chemistry of the Academy of Sciences of the Czech Republic in Pragu.
Tomas will notably discuss his work on long-life modified corticoïds that he testes on models of arthritis.
More generaly, Tomas' laboratory studies modifications of therapeutic molecules to improve their tartegting in tissues that are involved in cancer and inflammation.
The expertise of Tomas could help Inflamex pharmacological studies, and Tomas will be open to discussion with the aim of developing future collaborations.
ALL WELCOME!